2023 RCM Transformative Trends Report
Discover what's most important to health system financial leaders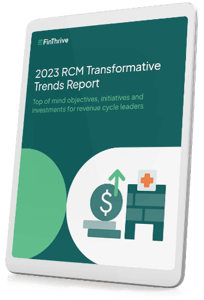 With a unique mix of obstacles in 2023, healthcare executives face eroding revenues and rising expenses. Investments in revenue cycle management (RCM) technology are more important than ever, with 80% of providers considering it a top-five priority this year.
Read our 2023 RCM Transformative Trends Report to:
Understand providers' RCM priorities that are driving financial strategies and technology investments
Explore the top three overall financial objectives identified by 100+ health system leaders
Examine transformative trends in RCM and assess how technology is driving innovation
Complete the form and
download your copy today.