RCM Executive Checklist
Seven Signs It's Time to Rethink Your Revenue Management Approach
Use this checklist to evaluate your RCM strategy and strengthen your bottom line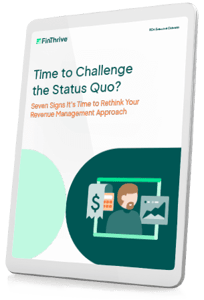 From staffing shortages to meeting the evolving expectations of patients, healthcare organizations face multiple challenges that can prohibit them from achieving long-term success. As providers seek to improve their financial health, leaders must ensure their revenue cycle approach is sound.
In this checklist, we offer seven tips to help you properly evaluate the effectiveness of your RCM strategy. Learn how:
Vendor consolidation leads to a greater return on investment
End-to-end revenue cycle automation saves time and increases staff satisfaction
Establishing the right key performance indicators (KPIs) ensures your team achieves the right financial goals
Complete the form and
download your copy today.