Thought Leadership Book
20 Reasons to Rethink
Revenue Cycle Management
By Jonathan Wiik
Learn more about the need for revenue management innovation and how a strategic approach to technology that prioritizes engagement, collaboration and automation can improve the patient experience and make it easier for providers to get paid.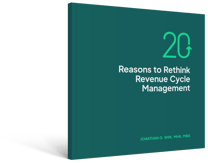 In Jonathan Wiik's latest book, "20 Reasons to Rethink Revenue Cycle Management," he shares his perspective on the unique RCM challenges healthcare organizations face and how to break the cycle of inefficiency.
With more than 25 years of healthcare experience, including in his current role as VP of Healthcare Insights at FinThrive, Jonathan Wiik is a thought leader for healthcare finance, revenue management and strategic transformation.
Complete the form and
download your book today.